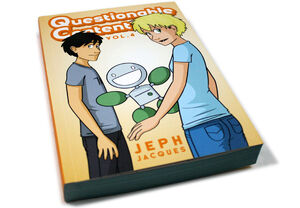 Questionable Content Volume 4 is a book containing the fourth set of strips, from strip Number 900: Maybe At A Swingers' Bar? through strip Number 1199: Really More Of An Early Anthrax Fan, Anyway, of Questionable Content. It was released by TopatoCo Books in May of 2014.
The book takes the reader through the first appearance of Beatrice Chatham—Hannelore's mother; the ongoing relationship of Marten and Dora — including Marten meeting her parents; Steve's relationship with Meena from the city morgue; Hannelore's birthday party — which resulted in Faye and Sven's ill-advised hookup; the introduction of Wil; various weird dreams by the cast; and the further development of Deathmøle as a band.
The book entails a new format, with a page size of 5 3/4" by 8 1/4" by 7/8" (14.6 cm x 21.0 cm x 2.3 cm), meaning each of the strips is on two pages, with the top two panels on the left page, and the bottom two on the right. The look and feel is similar to anime and manga-style comics.
Unlike the other three previous volumes, there are no "extras", like sketches or unused drawings.
The ISBN-13 number for Questionable Content Volume 4 (560 pages) is 978-1-936561-70-4.