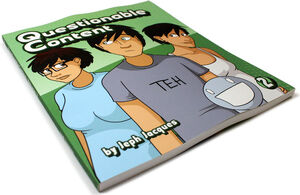 Questionable Content Volume 2 is a book containing the second set of strips, numbered 300 to 599, of Questionable Content. It was released by TopatoCo Books in September of 2011.
The book takes the reader through the storyline, "The Talk" — considered to be a major turning point in the development of the strip.
The book also has the introduction of Hannelore, with Jeph's explanation: "Believe it or not, this blonde girl will eventually become far and away the most popular character in the comic."
The book features other "extras":
Commentary for each strip, some of which reflects on the current status of the characters. This time it's Ellen and Natasha.
Guest comics for other strips: Overcompensating, Diesel Sweeties, Nothing Nice to Say, Hate Song, Wondermark, Dinosaur Comics and two from Sam and Fuzzy.
Sketches of Faye and Hannelore, and four of the "High School Lazer Portraits" of the cast.
Jeph's explanation about the impact of "The Talk" storyline.
The ISBN-13 number for Questionable Content Volume 2 (160 pages) is 978-1-936561-96-4.